Kennel
Hier finden Sie Informationen zu unseren Zuchthündinnen.
Details

Published on Friday, 21 June 2013 00:35
Written by Birgit Staczan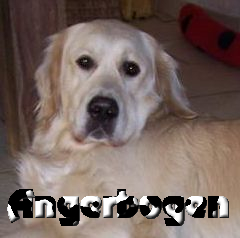 Pedigree:
Tallygold Big

Surprise

 

Tallygold Which Way is the Audience

Friendship Classic Tattoo
Mjaerumhögda´s Classic Sound
Perrimay Fadilla
Tallygold Hot and Sweet
Stenbury Waterwizardry 
Golden Joy´s Polly  Peachum
Strandgläntans Flowery Field
Cheer´s Secret Garden
Inassicas Song of Songs
Cheer´s Dazzle
Strandgläntans Sweet as Sweet
Inassicas Sea Chanter
Inassicas Field Pansy Clarinetto

Fiona vom Angerbogen

Daily Rays Touch of Sun
Paudell Pure Passion
Paudell Easter Plantagenet at Kerrien
Kerrien forever Bonnie at Paudell
Daily Rays Snow Christal
Lorinford Harlequin
Dewmist Cardanella
Cuddle Crissy vom Angerbogen
Dewmist Strike it rich
Perrimay Hector
Dewmist Solitaire
Naike vom Mohnfeld
Tyrol Victourius Voyager
Hummel vom Mohnfeld
Info:
*15.02.2011
FdW
HD  A2/B1
ED  frei/frei
Augen frei 12.02.2013
Formwert Vorzüglich
Zuchtwerte HD 86  ED 94  HC 95
   Mein Wesenstest: 
Nessy ist eine 15 Monate alte in sich ruhende Hündin mit sehr guten Nerven. Beim Spiel mit der Meute zeigte sie sich ausdauernd, temperamentvoll und keineswegs von den vielen Rüden beeindruckt. Aufmerksam und führig begeleitete sie ihre Besitzerin durch die gesamte FDW. Jagdliche Eigenschaften konnten ausgeprägt beobachtet werden. Hervorzuheben ist ihre freundliche Art bei der Begegnung mit Fremdpersonen. Interessiert schaut sie sich die optischen und akustischen Angebote an. Die beiden Schüsse wecken ihr Interesse ohne dass die beiden Dummys apportiert wurden. Die Hündin ist schussfest.
  Mein Formwert:
Große Hündin, sehr ausdrucksvoller Kopf, dunkle Augen, gut getragener Behang, schöner Körper, vorzüglich in allen Teilen, raumgreifende Bewegung